Dowd Family Dentistry
309 McArthur Road
Fayetteville
,
NC
28311
Office: (910) 822-5888
Fax: (910) 822-0055
Posts for tag: teeth whitening
By Dowd Family Dentistry
February 12, 2015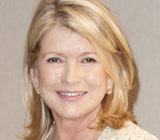 Here's a quick quiz: What recent activity did domestic guru Martha Stewart share via social media for the first time? Need a hint? Was she following the lead of other celebrities like rapper 50 Cent (AKA Curtis James Jackson III), actress Demi Moore and country music star LeAnn Rimes?
Give up? The answer is… she live-tweeted her visit to the dentist! Not only that, she also posted pictures of her mouth as she was undergoing an in-office whitening procedure.
Now, we understand that some might feel they don't need to see close-ups of Stewart's teeth under treatment. But we have to admire her for not trying to hide the fact that she's had the same procedure that has benefited so many people, whether famous or not. Plus, her pictures actually provide a good illustration of how the treatment works.
In-office whitening treatments are the fastest way to brighten up your smile. In a single one-hour visit, your teeth can be lightened by three to eight shades — and that's a big difference! How can we achieve such dramatic results? When you're under our direct supervision in an office setting, we can use the most concentrated bleach solutions safely and effectively. You can get similar results with custom-made trays and take-home lightening solutions we can prepare for you, but then the process will take longer.
If you look closely at her photos, you'll see that Stewart's lips, gums, and face are covered up to prevent any contact with the bleaching solution. She's also wearing protective eyewear, which not only keeps chemicals away, but also guards her eyes against strong lights, which are sometimes used in conjunction with bleach. When we perform in-office whitening procedures, we use safeguards like these for all of our patients — not just celebrities!
We also perform a complete oral examination before starting any whitening procedure, to be sure you don't have any underlying conditions that need to be treated before teeth whitening begins. That's something you just can't get from an over-the counter whitening product.
Teeth whitening is an effective and affordable way to give your smile a quick boost. But whether you decide to live-tweet your procedure — or keep your fans guessing about why your smile looks so good all of a sudden — that's up to you.
If you would like more information about the teeth whitening, please contact us or schedule an appointment for a consultation. You can learn more in the Dear Doctor magazine articles "Teeth Whitening" and "Important Teeth Whitening Questions Answered."
By Dowd Family Dentistry
October 24, 2014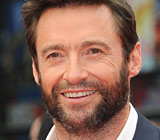 Australian heartthrob Hugh Jackman has won international recognition for his work on stage, screen and television, including his long-running portrayal of Wolverine in the X-Men film series, and his Academy-Award-nominated starring role in Les Miserables. Oh, and did we mention he was named the "sexiest man alive" by People magazine in 2008? So when Jackman once said "I have shocking teeth"… what did he mean?
"[My dentist] looked at my teeth and went, 'Oh, my God, you've got gray teeth,'" the actor stated. The proposed cure: tooth whitening. But what if the action hero's teeth were brightened too much — would his look still convey his trademark rugged charm? To see how that issue was resolved, let's look a little closer at various methods of tooth whitening.
All Whitening Isn't the Same
Everyone has seen the kind of over-the-counter tooth whitening strips advertised in magazines and sold in drug stores. Most dentists agree that, given enough time, they can work in many cases. But there may be problems, too.
One is that unless you know what's actually causing the darkening, you can't be sure if there is an underlying issue that needs treatment — a root-canal problem, for example. Bleaching a diseased tooth is like painting over a rusty car: it camouflages the problem, but doesn't fix it. That's one reason why, before any whitening treatment is attempted, it's important to have a complete dental examination, with x-rays.
Another is that without professional supervision, it's more difficult to control the degree of whitening you will end up with. For safety reasons, over-the-counter whitening products have the least concentrated bleaching agent, and will probably require weeks of use to produce noticeable results. The next step up — a custom-designed, at-home bleaching kit from our office — will likely produce results twice as fast.
The Professional Advantage
At-home bleaching done under our supervision uses stronger whitening agents with a flexible plastic tray that's custom-made to fit your teeth. It's a cost-effective way to achieve several shades of whitening in a relatively short time. Plus, with the advantage of our experience and guidance, you can get excellent results safely and efficiently.
If you want the fastest and most controllable whitening, however, in-office whitening treatments are the best way to go. According to one study, using the most concentrated whiteners in a safe clinical setting produced a six-shade improvement in just three office visits! This would have required a week or more of at-home bleaching, or upwards of 16 daily applications of the over-the-counter whitening products!
In-office whitening also offers the greatest degree of control over the outcome. That's why it was the method Hugh Jackman chose for his treatments. By adjusting the concentration of the bleaching solution and the treatment time, Jackman's dentist made sure his teeth were pleasingly light — but still looked completely natural. And in our office, we can do the same for you.
So whether you're looking for a dazzlingly bright smile or a more subtle enhancement, the best way to start is to call our office for a consultation. For more information, see the Dear Doctor magazine articles "Important Teeth Whitening Questions Answered" and "Teeth Whitening."
By Dowd Family Dentistry
August 13, 2014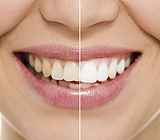 If you're considering tooth whitening, you may be torn between using a home product and undergoing a professional application in our office. Here's a brief comparison of both approaches to help you in your decision process.
It helps first to know what we're trying to correct — that dull, discolored tooth stain. Tooth staining comes in two varieties: intrinsic, which occurs deep within the tooth and can be caused by aging, old root canal treatments, tetracycline antibiotic use or excessive fluoride intake during childhood development; or extrinsic, which occurs mainly on the tooth surface and is caused by substances like coffee, tea, wine or tobacco. Intrinsic stains can only be treated through an in-office procedure — the comparison we're making between home and professional whitening refers only to extrinsic staining.
Whitening, then, is the use of a chemical agent to bleach those stains. The majority of both home and professional products use hydrogen peroxide or carbamide peroxide (which also contains hydrogen peroxide) as its primary bleaching agent. Depending on the application, either of these chemicals can effectively bleach extrinsically stained teeth. The two approaches differ, however, in the strength of the bleaching agent: home products usually contain a 10% or less concentration, while professional solutions usually contain between 15% and 35%. As a result, the home application takes longer than a dentist's treatment to achieve desired results — two to three weeks as opposed to one or two office visits.
Whichever option you choose, remember teeth whitening isn't a permanent solution. The brightness will fade over time — six months to a year if you restrict foods and habits that stain teeth. You can also receive a touch-up once or twice a year to help extend brightness.
There's also a middle of the road option — you can use a home application with guidance from our office. It's also a good idea to visit us for an examination beforehand — we can then advise you on what options will work for your particular type of staining and teeth condition.
If you would like more information on teeth whitening options, please contact us or schedule an appointment for a consultation. You can also learn more about this topic by reading the Dear Doctor magazine articles "Teeth Whitening" and "Tooth Staining."