Dowd Family Dentistry
309 McArthur Road
Fayetteville
,
NC
28311
Office: (910) 822-5888
Fax: (910) 822-0055
Posts for tag: oral health
By Dowd Family Dentistry
December 19, 2014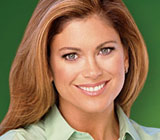 You may have seen Kathy Ireland on the cover of Sports Illustrated, but did you know that she is now a business mogul?
Through it all, Ireland has kept her model good looks, and that includes a bright, glowing smile. In a recent interview with Dear Doctor magazine she said that keeping her smile has required ongoing maintenance and more.
It seems that Ireland is a bit of a daredevil. She described a moment of fun with her children when she tried to stand in their wagon and "wagon surf" across her driveway. It ended badly when she crashed into her parked car and suffered a broken nose, split forehead and several broken teeth. "I learned that my love of adventure exceeds my coordination," she commented.
Ireland was born in Glendale, California in 1963. She demonstrated her drive to succeed early in life, starting at age 4 when she and her sister sold painted rocks from their wagon. Later she had a paper route. She began modeling at 17, with the goal of earning enough to pay for college or to start a business. In her successful modeling career she graced the covers of Glamour, Cosmopolitan, Harper's Bazaar and Sports Illustrated. Her first cover for Sports Illustrated, the publication's 25th Anniversary Swimsuit Edition, was the magazine's best-selling swimsuit issue to date.
In 1993 she founded her marketing and design firm, kathy ireland Worldwide. Now a billion-dollar industry, the firm sells fashions such as wedding gowns and bridesmaid dresses, as well as a wide range of items for home and family.
She has also written a number of books teaching others how to be successful — based on her own experience — as well as three children's books.
Discussing her oral health, Ireland says that she required serious professional assistance on more than one occasion. When she was a child she knocked out a tooth and later knocked it loose again. As an adolescent she wore braces for about three years. After the driveway incident she needed numerous veneers and dental implants to replace a lost tooth and restore her smile.
Her maintenance routine includes regular flossing and brushing, and she has her teeth cleaned every six months. She keeps up on her reading about the latest in research on dental health, and encourages her three children to floss and brush their teeth, to limit eating sweets and to do what they can to avoid injuries to their mouths and teeth.
Contact us today to schedule an appointment to discuss your questions about how to maintain your own smile. You can also learn more by reading the Dear Doctor magazine article "Kathy Ireland."
By Dowd Family Dentistry
December 04, 2014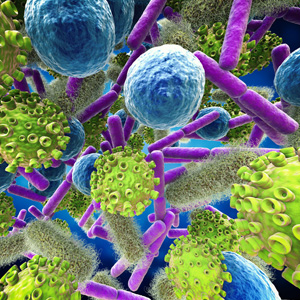 Bacteria are bad… right? They can cause diseases like pneumonia, strep throat, and tooth decay. They are the reason we wash our hands with soap (or antibacterial gels) and cook (or refrigerate) our food. Yet it turns out that bacteria are also necessary to keep our bodies healthy — and new research is showing just how important these tiny microorganisms are to our well-being. Here are five facts you should know about bacteria.
The bacteria in our bodies outnumber our cells by a factor of 10 to 1. An estimated 100 trillion bacteria live inside the average human — but because they're so small, they make up only 1-3 percent of our body mass.
The collection of bacteria we harbor is called our "microbiome." Like the groundbreaking study of human DNA called the Human Genome Project, recent research is leading to a "map" of our bacterial makeup. This revolutionary study is called — you guessed it — the Human Microbiome Project.
No two people have exactly the same microbiome. But in general, the bacteria that live in a particular spot on the body (the mouth, for example) play the same roles in different individuals. Research has also shown that a healthy microbiome looks very different from a diseased microbiome.
In terms of bacteria, the mouth is one of the best-understood areas of the body. It has long been known that tooth decay can result when "bad" oral bacteria begin to outnumber their "good" counterparts. Now we are gaining a better understanding of how certain lifestyle factors — like cigarette smoking — may influence the bacterial balance in the mouth.
Understanding the microbiome may lead to new treatments for disease. Researchers hope that one day, certain serious diseases could be controlled by bacterial "transplants" that re-balance an individual's microbiome. Maintaining a healthy microbiome could also help prevent many diseases.
So by all means, don't stop brushing your teeth or washing your hands — this helps control bacteria that could harm you — but do remember that not all bacteria are harmful. One day, an infusion of bacteria might just cure your illness.