Dowd Family Dentistry
309 McArthur Road
Fayetteville
,
NC
28311
Office: (910) 822-5888
Fax: (910) 822-0055
Posts for tag: dental injury
By Dowd Family Dentistry
November 19, 2014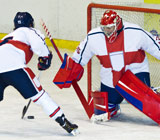 It might seem that adults who play aggressive, high-contact professional sports (ice hockey, for example) have the highest chance of sustaining dental injuries. But for many — like NHL hall-of-famer Mike Bossy — their first injured teeth came long before they hit the big time.
"The earliest [dental injury] I remember is when I was around 12," the former New York Islanders forward recently told an interviewer with the Huffington Post. That came from a stick to Bossy's mouth, and resulted in a chipped front tooth. "Unfortunately, money was not abundant back in those days, and I believe I finally had it repaired when I was 16." he said.
You may also think there's a greater chance of sustaining dental trauma from "collision sports" like football and hockey — but statistics tell a different story. In fact, according to the Academy of General Dentistry (AGD), you (or your children) are more likely to have teeth damaged while playing soccer than football — and basketball players have a risk that's 15 times higher than football players.
So — whether the game is hockey, basketball or something else — should you let the chance of dental injury stop you or your children from playing the sports they love? We think not... but you should be aware of the things you can do to prevent injury, and the treatment options that are available if it happens.
Probably the single most effective means of preventing sports-related dental injuries is to get a good, custom-made mouth guard — and wear it. The AGD says mouthguards prevent some 200,000 such injuries every year. And the American Dental Association says that athletes who don't wear mouthguards are 60 times more likely to sustain harm to the teeth than those who do.
Many studies have shown that having a custom-fitted mouthguard prepared in a dental office offers far greater protection then an off-the-shelf "small-medium-large" type, or even the so-called "boil and bite" variety. Using an exact model of your teeth, we can fabricate a mouthguard just for you, made of the highest-quality material. We will ensure that it fits correctly and feels comfortable in your mouth — because if you don't wear it, it can't help!
But even if you do have an injury, don't panic: Modern dentistry offers plenty of ways to repair it! The most common sports-related dental injuries typically involve chipped or cracked teeth. In many cases, these can be repaired by bonding with tooth-colored composite resins. For mild to moderate injury, this method of restoration can produce a restoration that's practically invisible. It's also a relatively uncomplicated and inexpensive procedure, which makes it ideal for growing kids, who may elect to have a more permanent restoration done later.
If you have questions about mouthguards or sports-related dental injuries, please contact us or schedule an appointment for a consultation. You can learn more in the Dear Doctor magazine articles "Athletic Mouthguards," and "An Introduction to Sports Injuries & Dentistry."
By Dowd Family Dentistry
July 17, 2014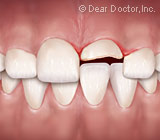 When a permanent tooth has been injured, our first priority should be to save it. A root canal treatment (where the interior pulp of the tooth is removed and the pulp chamber and root canals are filled and sealed) is usually the best approach for tooth preservation.
An immature permanent tooth, however, presents a different challenge. While the pulp is less essential to a mature tooth's vitality, it serves a critical purpose in the tooth's early development before early adulthood. The pulp produces layers of dentin necessary for the tooth's root system development. Completely removing the pulp at this stage may retard root development and cause the tooth to eventually weaken, and become brittle and darkened.
For younger teeth, we should therefore use alternative techniques that preserve as much healthy pulp as possible. One of these alternatives is Indirect Pulp Therapy, used when the pulp hasn't been exposed by the trauma. With this technique we remove as much damaged dentin as possible while preserving the harder dentin closer to the pulp. After applying an antibacterial agent to protect against infection, and then filling and sealing the tooth, the pulp can continue to produce dentin in a normal way.
If pulp exposure has occurred, some form of pulpotomy — the partial removal of any damaged or infected pulp — would be in order. Our goal here is to leave as much of the pulp as possible, and then apply substances that stimulate the remaining pulp to create dentin. The most common type of growth substances are calcium hydroxide or mineral trioxide aggregate (MTA).
If the pulp isn't at all salvageable, we may then turn to a procedure known as apexification. After removing the pulp we insert MTA at the root end of the tooth, then fill and seal the remaining interior as in a regular root canal treatment. The MTA will help the surrounding bone to heal and continue to grow around the root to further support the tooth.
Recent research into pulp stem cells promises further advances in this area. The regenerative qualities of stem cells could eventually help us "engineer" root development. Until then, there are still effective ways to give a young, damaged tooth a fighting chance to survive.
If you would like more information on preserving injured teeth, please contact us or schedule an appointment for a consultation. You can also learn more about this topic by reading the Dear Doctor magazine article "Saving New Permanent Teeth After Injury."