Dowd Family Dentistry
309 McArthur Road
Fayetteville
,
NC
28311
Office: (910) 822-5888
Fax: (910) 822-0055
Posts for: May, 2015
By Dowd Family Dentistry
May 23, 2015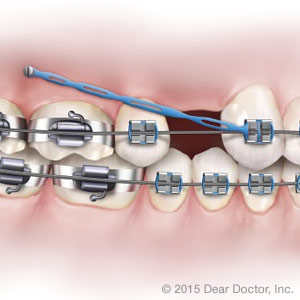 As a basic orthodontic appliance, braces are what allows us to move teeth into better positions to improve a person's bite. In certain cases, though, this treatment application gets a little assistance from Temporary Anchorage Devices (TADs) to improve accuracy and reduce treatment time.
Braces take advantage of our teeth's natural ability to move. Teeth are held in place within the bone by the periodontal ligament, an elastic tissue that attaches to the teeth with microscopic fibers secured by a hardened substance called cementum. The periodontal ligament is constantly remodeling in response to changes in the mouth. As pressure is placed on a tooth, new bone, ligament and cementum are formed on the "pulling" side of the tooth; on the other side, the bone and ligament dissolve (resorb), allowing the tooth to move in that direction.
Braces allow this natural process to occur with controlled forces applied by thin flexible wires threaded through the small brackets attached to the front of the teeth and then affixed or "anchored" to other teeth. By attaching the teeth to the other teeth by wires running through all the brackets, "anchorage" is created to allow teeth to be moved where the dentist wants them to go. By adjusting the tension on the wires, we can apply light but constant pressure on the "unanchored" teeth to move them into a new desired position.
Teeth we do not want to move are referred to as the anchorage for teeth we do want to move. If, however, the situation calls for more precise isolation of teeth to be moved, TADs can be very useful. TADs are mini-implants imbedded in the bone to serve as anchorage at strategic locations in the mouth. In this way, the group of teeth to be moved receives forces that are applied through the additional anchorage provided by the TADs. That "tension" or "pressure" is applied only to them and not to adjacent teeth that should not move. This increases efficiency for tooth movement and helps reduce the treatment time.
TADs can be placed using local anesthesia and with little discomfort, and are removed when orthodontic treatment is completed. Although the procedure is pretty straightforward, it does require collaboration between orthodontist and surgeon to ensure correct positioning.
In the end, TADs increase our ability to control the forces that move teeth during orthodontic treatment. This lessens discomfort for the patient and helps ensure the end result — a more functional bite and a transformed smile.
If you would like more information on the use of TADs and other orthodontic appliances, please contact us or schedule an appointment for a consultation. You can also learn more about this topic by reading the Dear Doctor magazine article "What are TADs?"
By Dowd Family Dentistry
May 08, 2015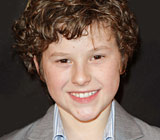 Nolan Gould of the hit TV show Modern Family has an uncommon gift for comedy, but he also has a very common orthodontic problem: too many teeth for the size of his mouth, which often results in "crowding."
"My teeth used to be pretty messed up," Nolan recently told Dear Doctor magazine in an exclusive interview. "I had two extra teeth when I was born. They hadn't come out (erupted) yet. And all the other teeth that were already there were starting to point backwards because it was getting so crowded in my mouth. They had to remove those two (extra) teeth," he said.
Although being born with extra teeth is somewhat unusual, needing to have teeth extracted for orthodontic reasons is not. In fact, orthodontic treatment often involves removing teeth to relieve crowding. It makes sense when you think about it: When there are too many teeth for the size of the dental arches (upper and/or lower jaws) or the teeth are larger in size than the dental arch can accommodate, there may not be enough space to align them properly. The necessary space can be created by removing teeth.
The teeth most frequently extracted for orthodontic reasons are the first bicuspid teeth. These are the ones right between the cuspid, or eyeteeth (under the eyes) and the molars (biggest back teeth). Once there is enough space, the orthodontist can choose from a variety of orthodontic appliances to align the teeth, depending on the specific needs of the individual.
In Nolan's case, it was the extra two teeth he was born with that were removed. Afterwards, the young actor's orthodontist was able to shift Nolan's remaining teeth into proper alignment using orthodontic appliances called Crozats. Made of metal wires, Crozats go around the back teeth and behind the front teeth, making them virtually invisible.
"You can remove them, which is really good for acting, especially because you can't see them," Nolan explained. "I can wear them 24/7 and nobody will ever notice."
Nolan's orthodontic appliances may not be noticeable, but his fabulous smile certainly is!
If you would like to learn more about improving tooth alignment with orthodontics, please contact us today to schedule an appointment for a consultation. If you would like to read Dear Doctor's entire interview with Nolan Gould, please see "Nolan Gould." Dear Doctor also has more on "Tooth Removal for Orthodontic Reasons."